BigML's Managed Virtual Private Cloud (VPC) provides transparent access to resizable computing capacity in the cloud and virtually unlimited cloud-based data storage without needing to install or configure any hardware or software. BigML is an Amazon Technology Partner, and the default cloud environment used for Managed VPCs is AWS.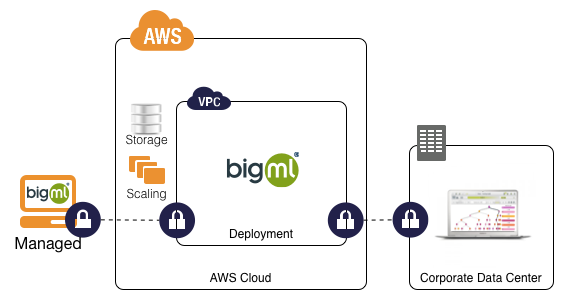 PROS:
No initial investment required in infrastructure.
For multi-instance deployments, catastrophic events will have almost no effect on the service operation. This is because your BigML VPC will be hosted using redundancy and other special safeguards within multiple AWS availability zones.
Cluster topology is elastic and dynamically adapted, making this solution, in many cases, the most cost-effective.
CONS:
Integration with other On-Premises applications can be more difficult.
Please read this question for security matters, check our documentation, or send an email to info@bigml.com.